Welcome to homepage of aerodrome Spilve!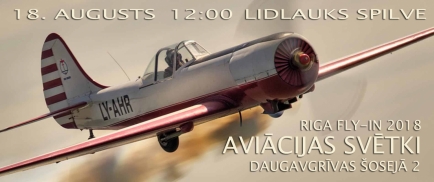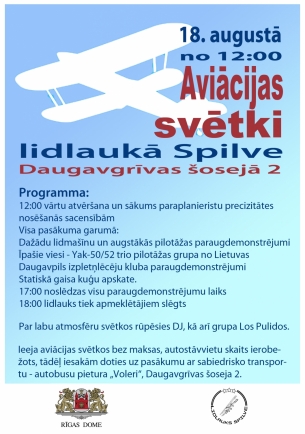 E-mail
Our "info" mailbox is currently suffering a harsh spam attack likely originating in China. Your message to
[email protected]
as well as a message from this website contact form will most likely not reach us so please find other means to contact us.
On aerodrome status and actions in 2018
Happy New Year to all flyers!
March 8, 2017 our aerodrome licence expired and we planned to renew it promptly but unfortunately even now in the beginning of a new year it is still in progress. Large part of the last year as well as financial resources were spent getting the B category contaminators licence which is basically a bureaucratic nonsense just for a tick in the certification checklist. After that was done we did all the other papers and surveys necessary and submitted all to the CAA. There the case since been stuck because CAA wants to be highly assured of the legality of setting up the airfield on the piece land it has always been on This is still the weak part of our case as for a few months already we are waiting for a document from municipality and other proprietors stating their agreement with the aerodrome being set up there. Anyway we extend our gratitude to all those involved in the preparatory work of the aerodrome certification case.
So the status quo is an uncertified airfield still operating as usual, at least as long as someone with a big hairy hand has forbidden us doing so. As stated before, make sure your Operator's manuals or insurance policies do not limit your operations only to certified aerodromes.
So we continue with slight changes:
1) Not knowing the certain future of our airfield
we stop accepting any annual fees from pilots. Please pay every flight according to the published fees.
If at some point everything will settle, we will restart the annual fees and the landing fees already paid will become a deposit towards the annual fee. To pay the [really low] salaries [with taxes] to our 3 employees as well as electricity and telecom bills we need nearly 2000 EUR per month. Please be conscientious and find yourselves the person on duty whom you can pay, nobody has to run after you, aviation is not a nursery.
2) Follow the same published flight rules.
3) Do not forget about the CAA published administrative document which requires the use of two-way radio, mode A/C transponder and filing a flight plan for a flight in Spilve ATZ.
Any changes will be announced as soon as there are any.
Safe flying in 2018 everyone!
Attention! Flight rule changes!
In accordance with administrative act of CAA, all flights within Spilve ATZ shall have:
1) two-way radio;
2) Mode A/C transponder, sq2000;
3) active flight plan.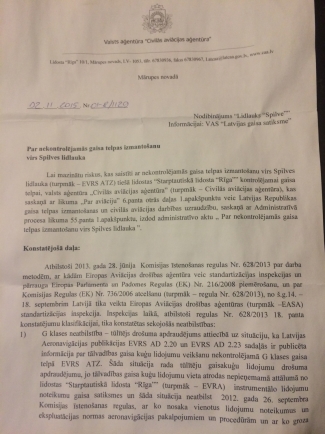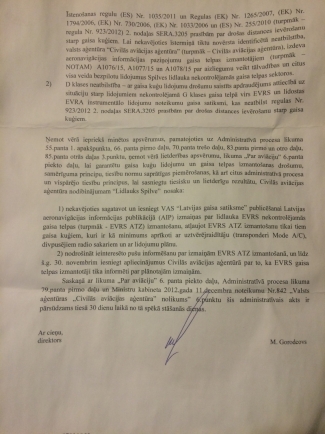 To Spilve users:
NEW PROCEDURES EFF 29MAY14
New AIP chapter on aerodrome Spilve with new flight rules and procedures is effective May29, 2014. Even if one single light minded pilot will neglect or break these rules, we all can get punished.
Every pilot who did not attend one of the two seminars organized in May shall learn the information independently and sign the special instruction journal which will be available in Spilve briefing room starting evening of May 27.
The EVRS AIP chapter can be downloaded
HERE
NB!
The meteorological minimum for VFR flights in Spilve ATZ shall be the same as for Riga CTR (visibility minimum 5km and clouds not lower than 1500 ft). Regarding current WX consult Riga ATIS.
MyAirfields.com
Airfield database created by few Latvian enthusiastic flyers has moved to new location
MyAirfields.com
We strongly suggest pilots to use it for reference!
Aviation Celebration in the Aerodrome Spilve got 65 000 visitors over the weekend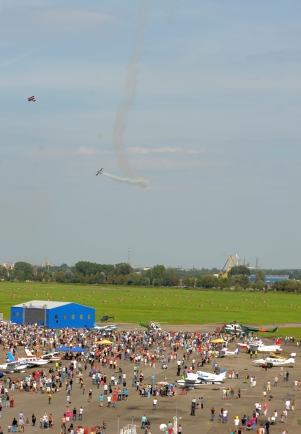 Tie down your aircraft!
Video from Spilve Aviation Celebration 2011
->
AVGAS
We have some stock of club fuel. If you join the club, you can borrow the fuel for EUR 2.50.